What is the 2FA authentication process of Tribal?
2FA, or Two-Factor Authentication, is a security process that requires users to provide two different authentication factors when trying to access their Tribal accounts. The goal of 2FA is to enhance security by adding an extra layer of verification beyond just a password, making it more difficult for unauthorized individuals to gain access.
How to complete the 2FA authentication process on your Tribal account?
To protect your account and the confidential information you handle on our platform, we kindly request that you complete our 2FA authentication process. Just follow these steps:
Log in

with your username and password as usual.
After you Log in you will be prompted to set up the 2FA.
Download the Google Authenticator mobile application from the

App Store

or

Google Play

.
Scan the QR code or manually enter the key in the Google Authenticator mobile application to link it to your Tribal account.
After the scanner of the QR code a 6-digit code will be generated every 30 seconds on your Google Authenticator mobile app and then enter it on the Tribal platform to finish with the Login.
After this process 10 backup code will be generated for you Log-in if ever lose access to your Google Authenticator mobile app. Make sure to safely store your backup codes, by taking a screenshot or picture, as they will only be shown once.
You're all set! Access your Tribal account with authentication.
What if I can't find my authenticator code?
When 2-factor authentication is enabled you will need to enter a 6-digit verification code from your Google Authenticator app in order to log in. This extra layer of security is set up by the user, not Tribal. If your Google Authenticator app is not showing the 6 digits verification codes, please try the following steps:
On iOS:
Go to Settings -> General -> Date & Time
Turn off 'Set automatically' for a few seconds, then turn it back on again
Check if this fixes the codes
On Android:
Go to the main menu on the Authenticator app -> Settings -> Time correction for codes
Click 'Sync now'
Check if this fixes the codes
What if I can't find the authenticator app?
Please search your phone for "authenticator" to see whether any authenticator apps exist in your phone. The Google Authenticator app you used to enable 2-factor authentication for Tribal should list Tribal Credit along with a time-sensitive code. As shown in the following screenshot: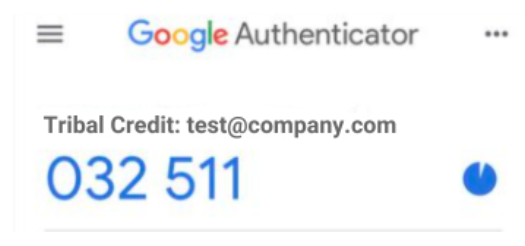 You may not be able to find the authenticator app if, for example, you recently replaced your phone without migrating your authenticator app.
If you can't find the app on your phone, look for the backup codes that were generated when you enabled 2-factor authentication. These may be a screenshot or a picture on your laptop
What happens if the 6-digit code is invalid?
Make sure to access your Google Authenticator Mobile App to get your 6-digit code immediately after logging into your Tribal account. If you don't do this, you should log out of your Tribal login. When you log in again using your email and password, and the screen asks for the 6-digit code, that's the time to open your Google Authenticator Mobile App and enter the code. Please restart your Google Authenticator Mobile App if you opened it before logging in to Tribal.
It's important to note that having the Google Authenticator Mobile App already open and trying to use a code is an error, as it may not match the code required by the Tribal platform, or it could be an authentication code for another account linked to your Google Authenticator Mobile App.
Additionally, check the following points to ensure you are obtaining and entering the 6-digit code correctly:
Check the Time: Make sure the time on your device where the Google Authenticator Mobile App is set up is synchronized with the current time. The codes generated by the app depend on the time and must match the authentication server's time. If the time doesn't match, the codes will be considered invalid.
Temporary Codes: The codes generated by Google Authenticator are temporary and change every 30 seconds. Ensure you are entering the correct code at the right time. Wait for a new code to generate and ensure there are no delays in synchronization.
Do Not Reuse Codes: The generated codes are single-use. Make sure you are not trying to use a code that has been used before.
Resynchronize the App: If you continue to have issues with invalid codes, you can try to resynchronize the Google Authenticator Mobile App with your account. To do this, you typically need to go through the two-factor authentication setup process again and scan the QR code provided by the service.
Contact Technical Support: If, after checking these points, you still have problems with invalid codes, it's advisable to contact our support team at support@tribal.credit or the service that uses Google Authenticator. They can help you resolve specific authentication-related issues on their platform.
What if I can't find the code in my app?
Please check Google Authenticator help instructions:
How to use my backup codes?
Please log in as usual, and you will be directed to the following screen:
Click on the link below the code spaces, where you will be prompted to:
Enter one of the 10 backup codes that you've saved.Once you've done that, you're all set to start using your Tribal Account.
If you have already tried all the steps above with not success, please contact our support team to support@tribal.credit or filling our support form, requesting the reset of you 2FA. Keep in mind to provide as many details as you can in order to investigate further your specific situation, also we will request validation of your identity to move forward, this can take between 2 or 3 working days.